The Yeovil Festival of Transport was started in 1972 by The Yeovil Car Club as a one-day show in the grounds of Sherborne Castle, then known as the Cavalcade of Motoring. Three years later the popularity of the show had grown to such an extent that it was moved to the Yeovil Show Ground. In 1977 the show was renamed The Yeovil Festival of Transport. Each show had been organized by a committee of enthusiastic volunteers who spent a great deal of their spare time throughout the year making arrangements for that one week-end in August.
Since the festival began it has donated over £260,000 (€424,000) to charities and organizations in the Yeovil area, with the aim each year to raise enough money to purchase an ambulance or mini-bus for the disabled, sick, elderly and underprivileged. Some times it took two or three years to achieve this. The 2003 show committee saw the fourteenth vehicle go to a charity. It was a Ford Transit van and was donated to St Margaret's Hospice of Yeovil.

Sadly Yeovil Car Club decided to close down the Yeovil Festival of Transport after the 2003 show.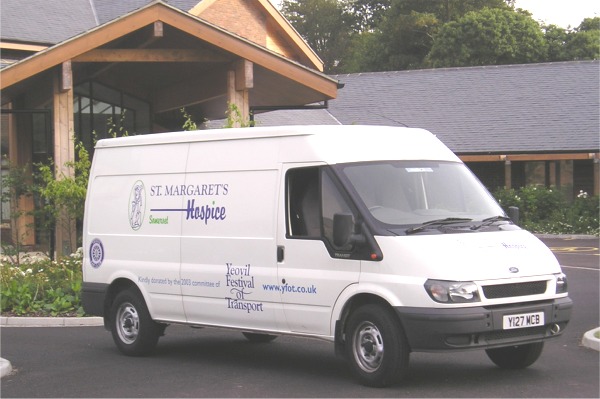 The van donated by the 2003 Yeovil Festival of Transport committee to St Margatet's Hospice